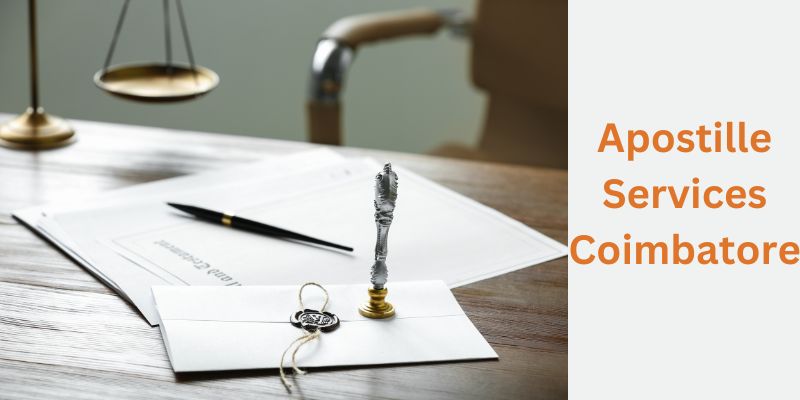 Apostille Services In Coimbatore
Get the best Apostille service near me in Coimbatore from a registered agency. We provide certificate apostille services in Coimbatore along with free pick
Apostille service in Coimbatore is exclusive to Coimbatore and provides support for the legalization needs of customers. Limited consultancies will offer you an authentic and appropriate certification. This is part of the certification procedure that ensures one's authenticity and purpose of travel to destination country. It is also an important prospect for obtaining a visa or growing business in foreign countries.
Certificate Apostille Services In Coimbatore
A stamp or seal is applied to the document as part of the Certificate Apostille process to verify its authenticity. This procedure is required when someone wants to use their copies in a foreign country. The Apostille Certificate proves that the document has been authenticated by the proper authority.
Apostille is offered by several organizations in Coimbatore. These organizations help with the Apostille stamping of various documents including diplomas and birth certificates.
This certificate is recognized as legal by all countries who have accepted the 1961 Hague Convention.
How to obtain Apostille at Coimbatore
Apostille Services Is known as one of the most reputable and confined apostille agents in Coimbatore. We offer a wide range of legalization services, including birth certificates, marriage certificates, and degree certificates. Only certified and adroit professionals can legalize certificates. Apostille Services offers fast legalization services in Coimbatore.
From the certification of the notary, to the application of the MEA apostille sticker, we implement authentication. The MEA sticker is placed on the certificate to approve it so that the certificate can be used in order to claim the visa. We offer exceptional customer service and are available online 24 hours a day to answer your questions.
Documents are required for the Certificate Apostille Process in Coimbatore
Original Certificate
A copy of a passport
Procedure for Apostille Service in Coimbatore
Process for Apostille for Personal documents
Notary Attestation

The primary step to authenticate educational and personal documents is a Notary Attestation. This is done by a regional lawyer or collector.

Home Department Attestation

The Home Department certifies personal documents at the state level. The Home Department legalizes documents issued by the same state government. In some states the Home Department is called Mantralaya, and so Mantralaya attestation is used.

Process for Apostille for Educational documents

HRD Attestation

RD, or Human Resource Department, is the only state department that certifies educational documents. The verification of certificates is an important part of the authentication process. The university or board where the document was issued is responsible for the certificate verification.

SDM Attestation

In some cases, the Sub-District Magistrate can be used as an alternative to State Attestation. This is when the HRD attestation by the home department is not preferred.

Process for Apostille for Commercial documents

Chamber of Commerce Attestation

Chamber of Commerce is an association of businessmen and a first step to verifying your commercial documents prior to the legalization of MEA. Commercial documents are not regulated by state governments.

MEA Attestation

MEA is an arm of the central government which manages foreign affairs. It will provide the MEA sticker and MEA seal as per requirement. The final step in legalization is when both the destination and home countries are Hague Convention members.

How long does it usually take to obtain an Apostille certificate in Coimbatore?

The length of the legalization process is largely determined by what type of certificate is being legalized. If you are doing the offline process, it will take 25 to 45 business days. However, if the legalization agency in Coimbatore is handling the procedure on your behalf, the time frame could be as short as 8 to 20 days. The time it takes to incorporate the HRD will also affect the length of the procedure. It can take up to two weeks longer to move from one state to another and from university to university.

What is the cost of getting a document Apostilled in Coimbatore?

The certificate authentication process involves different levels of authorization. The Apostille Attestation Fee is usually determined by the type of authentication that you require, whether it's just the MEA or all levels. Legalization is a costly process that can cost thousands of dollars. The gravity of the document will also influence the price.

Why choose Apostille Services in Coimbatore?

Fast & Reliable Service
Pick up and drop off service is free
All India Service Availability
24*7 Customer service
Customer Convenience
Quality Service