Apostille Services In Surat
Get fast apostille service near me in Surat, Vadodara, Navsari, Bardoli, Ankleshwar, Vapi, etc at low price. Document Attestation apostille services along with free pick
Apostille is a simplified form of global documentation used by nations of the Hague Convention to authenticate the origin of documents such as personal, educational and commercial. Apostille is only issued for documents that were issued in a country that has signed the Apostille Convention and are intended to be used by another country who has also signed the convention. Apostille is an international attestation accepted in 112 countries. The majority of western countries also recognise Apostille.
India has signed the Apostille Convention and designated the same authorities to authenticate documents for both Attestation services as well as Apostille attestation.
Documents Attestation and Apostille In Surat
We provide apostille service in Surat. Apostille services provides travel documentation attestation in India. This includes personal documents such as Birth Certificates, Marriage Certificates, Degree Certificates, Powers of Attorney, and educational documents.
Apostille Certificate In Surat
The Certificate Apostille process makes documents legal to use abroad. This is a certification which attests the authenticity of a signature, stamp, or seal on a document.
The Ministry of External Affairs of India (MEA), a government agency, performs the apostille of certificates in Surat. The MEA has authorized several organizations to provide the Certificate Apostille Service. The 1961 Hague Convention is recognized by all countries that have signed it.
The following types of documents are eligible for Apostille certificates in Surat:
Apostille for Educational certificates
Apostille for Non-Educational certificates
Apostille for Commercial certificates
The following documents are required to process a Certificate Apostille in Surat:
1. Original Certificate
2. A copy of a passport
A Certificate is attached to the document after it has been verified by the agency authorized in Surat as part of Certificate Apostille. The certificate attests the stamp, seal and signature of the document.
Certificate Apostille is required for all documents, including diplomas, birth and marriage certificates, as well as other legal documents, that are intended to be used abroad.
The Certificate Apostille in Surat process usually takes a few working days. Documents can then be used in their target country. Remember that the Certificate Apostille may differ depending on which country the document will be valid.
The Apostilling of certificates is an important step to legalize documents for use in foreign countries. Surat's Ministry of External Affairs, along with authorized agencies, handles the process.
Procedure of Apostille Certificate In Surat
I) The process of Apostille for Personal/Non-Educational documents consists of these steps: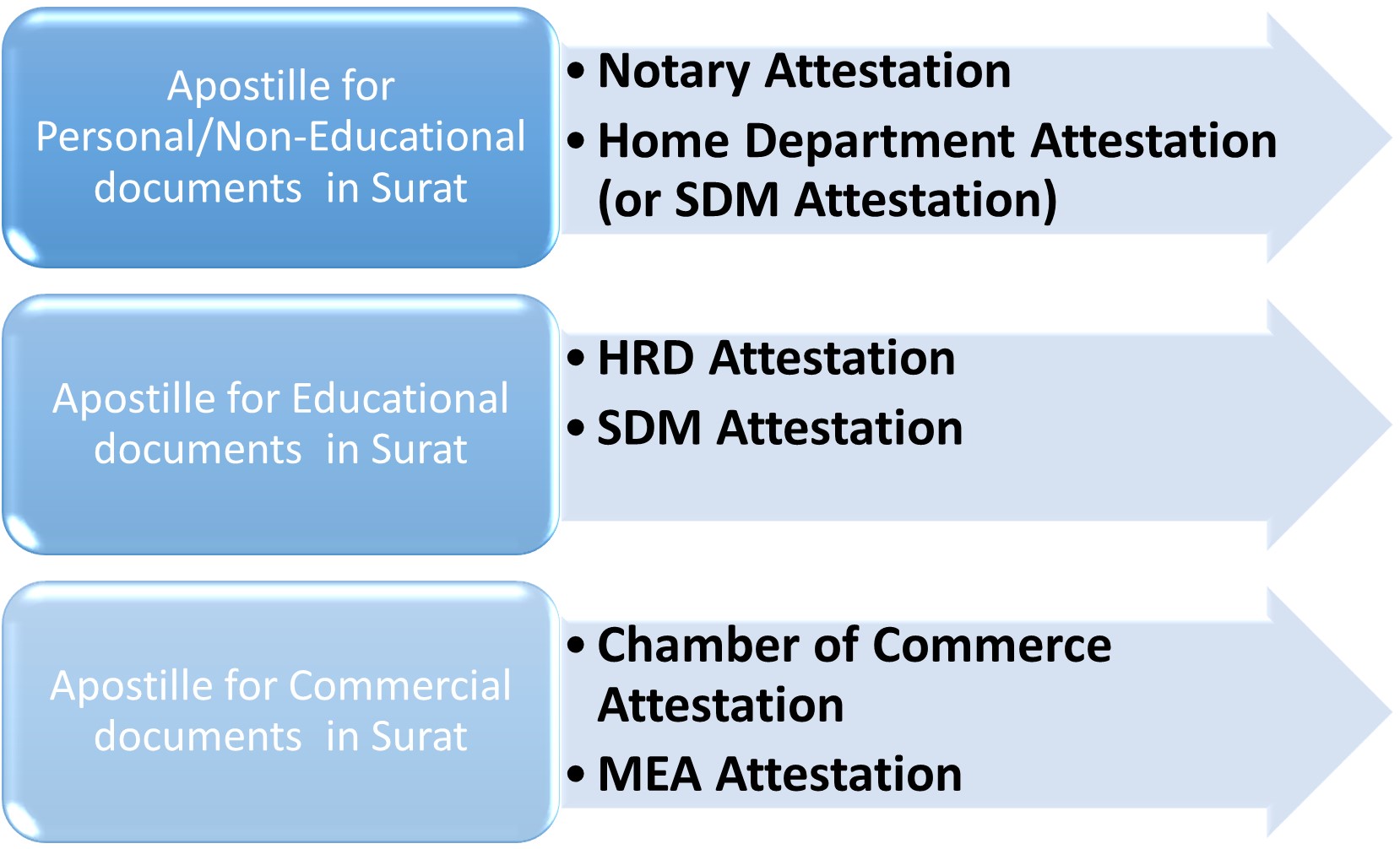 Notary Attestation

The primary step to authenticate educational and personal documents is a Notary Attestation. This is done by a regional lawyer or collector.

Home Department Attestation (or SDM Attestation)

The Home Department certifies personal documents at the state level. The Home Department legalizes documents issued by the same state government. In some states the Home Department is called Mantralaya, and so Mantralaya attestation is used.

II) Two steps are involved in the process of Apostille of Educational documents:

HRD, or Human Resource Department, is the only state department that certifies educational documents. The verification of certificates is an important part of the authentication process. The university or board where the document was issued is responsible for the certificate verification.

SDM Attestation

In some cases, the Sub-District Magistrate can be used as an alternative to State Attestation. This is when the HRD attestation by the home department is not preferred.

III) The steps are involved in the process of Apostille of Commercial documents:

Chamber of Commerce Attestation

Chamber of Commerce is an association of businessmen and a first step to verifying your commercial documents prior to the legalization of MEA. Commercial documents are not regulated by state governments.

MEA is an arm of the central government which manages foreign affairs. It will provide the MEA sticker and MEA seal as per requirement. The final step in legalization is when both the destination and home countries are Hague Convention members.

Documents Required for Apostille in Surat

The document you wish to apostilled must be presented. The original document can be presented in either its original form or as a photocopy.

How long does it take to complete the process in Surat?

The type of document and urgency of the situation will determine the time taken to process the Apostille. Delays are inevitable because each department works at its own pace and timeframe. You can us, as doing this yourself will take a lot of time and energy. We offer the fastest Apostille service in Surat. Usually, the processing of documents takes only 5 to 7 days.

What is the cost Of Apostille In Surat?

The cost will vary depending on the type and number of documents to be apostilled. You will also need to include travel costs if you do the process yourself, as the departments are all located at different locations.

Why choose Us for Apostille in Surat?

24/7 Customer Support
Brand Value
Drop off and pick up services are free
No extra Charges
Document tracking