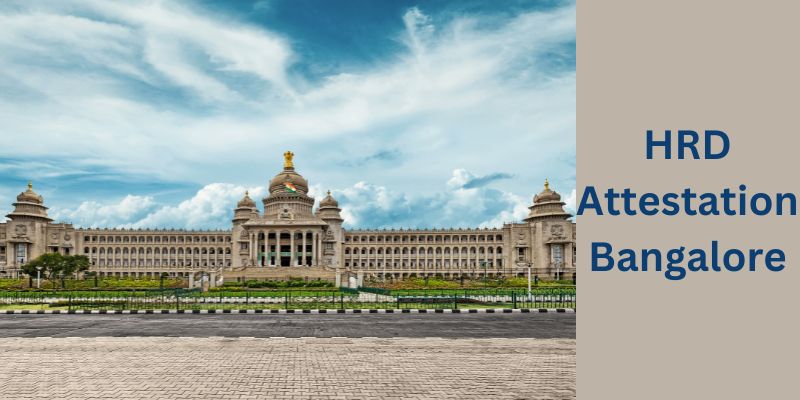 HRD Attestation in Bangalore | Karnataka
Get quick HRD Attestation services near me in Bangalore and all locations of Karnataka. HRD Attestation collection center Dharwad, Mysore, Belgaum etc
Collection Center in India
For HRD Attesatation services in India we serve all the location of India
State Human Resource Department attests all documents and certificates issued by Paramedical and medical Institution, Govt. School, Govt. Technical Board and University, just to mention a couple. HRD Department checks the documents and certifications with the respective universities, then authenticates the same. The documents are attested after the HRD process. We are able to guide you and assist with the MEA as well as Mantralaya attestations.
Documents Required for HRD Attestation
Original Certificate
Passport Copy
Aadhaar Card Copy
When is HRD Attestation required in Bangalore?
The verification of education certificates is necessary for a variety of purposes including visas such as student visas and work visas. HRD is required to authenticate the educational certificates.
How to obtain HRD certification in Bangalore?
Apostille Services provides quality HRD attestation services in Bangalore. We have branches all over the country. Visit us in person or contact us to get the best legalization services in India.
Apostille Services has a technologically advanced agency which will allow you to enjoy our services without any hassles from the comfort of your home. Pick-up and Drop facilities are available. We will attestation your documents for you. All you need to do is submit the documents you want attestation on, along with a xerox copy of them.
How long does the Procedure for HRD Attestation take in Bangalore?
HRD can certify a number of documents. The amount of time it takes depends on many factors like the university issuing the document and the workload at the HRD ministry. In general, the process will take three to six weeks due to additional verification by the university. However, the time frame will be affected by other factors. Check out Apostille servicse in Bangalore Procedure at our website.
What are the HRD Attestation fees in Bangalore?
The fee for obtaining legalization at the Human Resource Department of Bangalore varies from service to service. This will be affected by other factors such as urgency, state of documents, availability of university verification service, etc. HRD attestation prices can range from several thousand to tens of thousands and may differ depending on the additional services, such as pick-up and delivery. For the HRD certification cost in Bangalore, contact us.